1.Overview
ZYL central chain bucket type hoist is a company introduce the same products abroad advanced technology to develop products. Advanced at home a vertical lifting equipment, has been widely used to ascend all kinds of bulk materials, such as: ore, coal, cement, cement clinker, food, chemical fertilizer, etc. In each industrial countries, this kind of hoist extremely extensive application. Due to its high efficiency and energy saving, is the first bucket type hoist.
2. Performance Characteristics
The central chain hoist by running fights type parts, drive device, the upper, middle and lower device front-housing device component.
(1), working parts: the hopper and central chain composition, less than ZYL1000 adopt single chain, more than ZYL1200 adopt double row chain.
(2), and driving devices: take Y series motor, through coupled device, reducer composition. (optional according to customer's requirement and decide).Drive device points left and right pack pack two. Respectively with the hoist left, right outfit correspondence.
(3), upper device: install a spindle and sprocket.
(4), central cabinet: middle have standard 3m high, non-standard and maintenance middle segment.
(5), lower device: installation has tensioning devise, adopt sank ChongZhang tight.
3. process arrangement
Overall dimensions, foundation of load and power and protective device please contact with nantong middlings the technical department.
4, structure features
The central chain bucket type hoist whole structure are: 1, chain-free single dou structure, 2, double-stranded double dou structure,
This structure performance especially suited to ascension conveying high temperature, big particles, grinding cut sex emphasize materials. If application in clinker conveying system, Thomas compressor circulatory system and other transport condition is relatively bad system, to ensure the high efficiency, trouble-free operation after, fully meets the modern large-scale cement plant to hoist equipment reliability, high life and big throughput of the highest requirements.
(1) chain
Perfect, concentrated, scientific manufacturing process ensure chain each parts precision
Dedicated a hole technology ensures the chain chain board pitch and aperture of unity, Precision friction press forging system of chain plate ensure chain chain chain board high wear-resisting life and antiflow, fatigue, special intermediate frequency heating equipment to ensure chain chain pin shaft surface hardness and the deepest the highest hardness layer, the longest wear-resisting life, avoid chain chain pin shaft impact sudden breaks. The sleeve and chain board appropriate over surplus cooperate can make chain plate with the benefit of DE on stress, greatly increases the fatigue life of chain chain.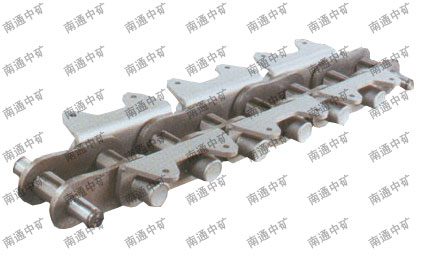 With loading and unloading very convenient removable type chain
Nantong middlings with a pin shaft chain plate does not contact with the hoist chain, in installation spot does not need any auxiliary tools can install molding the whole chain, solved the partial site installation relatively difficult big chain link on site installation problem.
Jiangsu China Mining using high-quality detachable type forging central chain structure, touch among pin shaft can be 360 degrees of freedom rotation, wear-resisting surface utilization rate 100%, hoisting height more than 60 meters, promote capacity of 2000t/h, dou speed can reach 1.8 m/s, using SanDianShi friction drive.
The chain and sprocket transmission through the chain in chains and hub-to-shroud three-point contact to complete.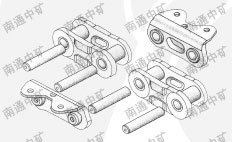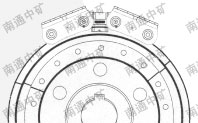 The central chain internal/external chain plate with the use of high quality 410Cr structural alloy steel forging and become, hole processing adopts advanced CNC processing becomes, to ensure the accuracy and chain pitch DE coaxial precision, chain plate adopts compressor within fittings, moderate interference with guarantee the stability of the chain.
(2) pin shaft, sleeve

Pin shaft and sleeve the products using high-quality 42CrMo alloy steel and heat treatment process, including the workpiece surface conditioning again after medium frequency induction hardened, to ensure the pin shaft internal impact resistant, fatigue and exterior wear-resisting performance (surface hardening depth of 3mm above, hardness of HRC55-60) pin shaft service life can reach 30,000 hours above.

(3) sprocket
The head/stern sprocket adopt high quality 42CrMo manufacturing, in advanced CNC grinding ring forging machine grinds and into. Wheel rim surface is also used frequency quenching process (quenching depth can reach was, hardness can reach HRC58-60) use life can reach 20,000 hours. Meanwhile nantong middlings also adopted the removable type assembly method. Head wheel rim is divided into three (each 120 points a), tail wheel rim into tow (every 180 degrees points in a) can not dismantle chain, hopper and hub of replacement disassembling is very convenient, greatly shorten the chain maintenance time.
This sprocket type toothless drive structure, because the sprocket and chain between energy transfer depending on chain and chain between the three points friction role guarantee hub-to-shroud surrounding evenly to wear, the sprocket diameter and chain pitch, adopts the odd cooperate, chain and sprocket every time running a week of the contact position are not the same point and greatly enhance the sprocket using life.
(4) hopper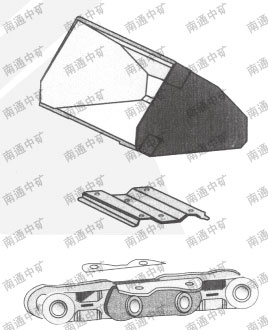 Hopper and chain assembly adopt unique design. Hopper and chain between equipped with M type backplane role is fixed outside a chain chain plate in accidental damage to prevent hopper fall when chain caused downtime accident: Its function 2 can be effectively play hopper and chain between minus up with, prevent hopper back because of fatigue tear. Another hopper for edge adopted wear-resisting welding formed a wear-resisting belt, greatly improving the hopper using life.
(5) tail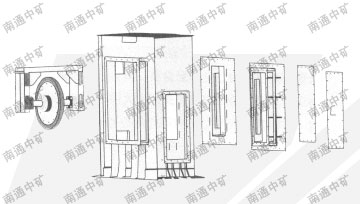 The tail USES German latest gravity tensioner structure. Its structure by the tail counterweight and high hardness no need to maintain the tweezers hardened bearing steel. This structure using low cost, convenient maintenance and replacement, using equipment, high reliability. Consequently, smooth and reliable operation, low noise, sealed performance is good.
5.ZYL - type D a single precision die forging chain hoist fighting style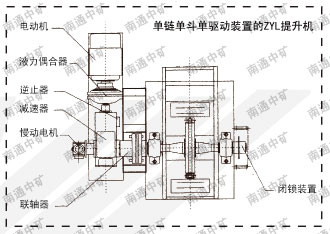 1, conveying capacity of more than 11m tons per hour
Phase two nearby hopper spacing between shorter, drive faster, making equipment transmission capacity big strengthen, chain-free single dou maximum transmission capacity can be more than 11m tons/hour.
2, hoisting height can be more than 60 metres (head and tail wheel center distance)
Adopt equipped with precision die forging chain hoist chain is very reasonable structure design and in reasonable reduced chain itself weight premise, only strengthened its breaking strength and other mechanical properties to ensure chain of transportation distance over 60 meters, under the precondition of its chain load safety coefficient more than 11 times.
3, in continuous operation conditions using life is corresponding plate chain nearly three times
Reasonable design, large load safety coefficient and strict production process ensure precision forging chain of reliable life, also ensure that its far more than the same plate chain using life.
4, super high temperature resistant, can instantly inherit 400 ℃ material temperature
Use high-temperature of high quality alloy special steel materials, and greatly reduce the condition in continuous high-temperature heat distortion, rigorous heat treatment process was greatly increased in continuous high-temperature condition, the stable performance.
5, equipped with maintenance and auxiliary preach (optional belt loaded with auxiliary preach)
Effectively reduce maintenance cost, provide the working efficiency and equipment operation, stable performance FLENDER/SEW adopted special bucket machine gear box, equipped with auxiliary preach, fan, non-return device, overrunning clutch, TACONITE sealing etc. (choose components)
6, equipped with material place machine, speed measuring devices, prevent chain rupture alarm device (design multi-back components)
Material level program (alarm device) can effectively protect the equipment of reliable operation, improve equipment operation life; Speed measuring devices reliable detection equipment running status, Prevent chain rupture alarm device can in equipment operation process monitoring and protection chain operation.
7, equipped with variety of special bucket type
According to the material of the physical and chemical properties with connect dig dual-use, special type of various measures to ensure the different materials through the corresponding measures type change reach best transmission efficiency.
6.ZYL - s-type double bar precision die forging chain hoist fighting style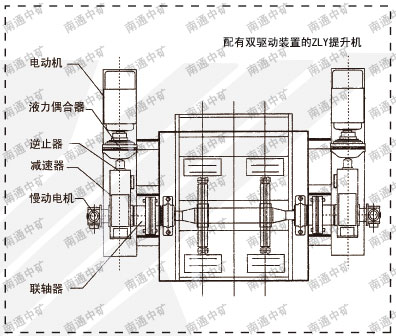 (1) conveying capacity of more than 2,000 tons per hour
To a nearby two hopper spacing between shorter, drive faster, making equipment transmission capacity big strengthening, double-stranded dou maximum transmission capacity can be more than 2,000 tons/hour
(2) hoist height more than 60 metres (head and tail wheel center distance)
Adopt equipped with precision die forging chain hoist chain is very reasonable design, reasonable in reduced chain itself weight premise, only strengthened its breaking strength and mechanical properties of the chain in transmission distance to ensure more than 60 meters, under the precondition of its chain load safety coefficient more than 11 times.
(3) adopt international advanced double drive structure technology
In order to better and effective to provide higher driving force, also can effectively reduce the weight of each piece driver, can make the equipment is balanced, symmetrical around the bearing, and can make the drive shaft by torsion more balanced.
(4) tails to use two fully independent tensioner device
The tail two fully independent tensioning devise very convenient compensation two chain is different, this is common elongation length of single dou double-stranded (NSE) GTH, en, such deficits structure advantage.
(5) have a single precision forging chain bucket machine as superior performance
High temperature resistant, high life, smooth and reliable operation, installation easier, chain machine design reasonable structure hopper.