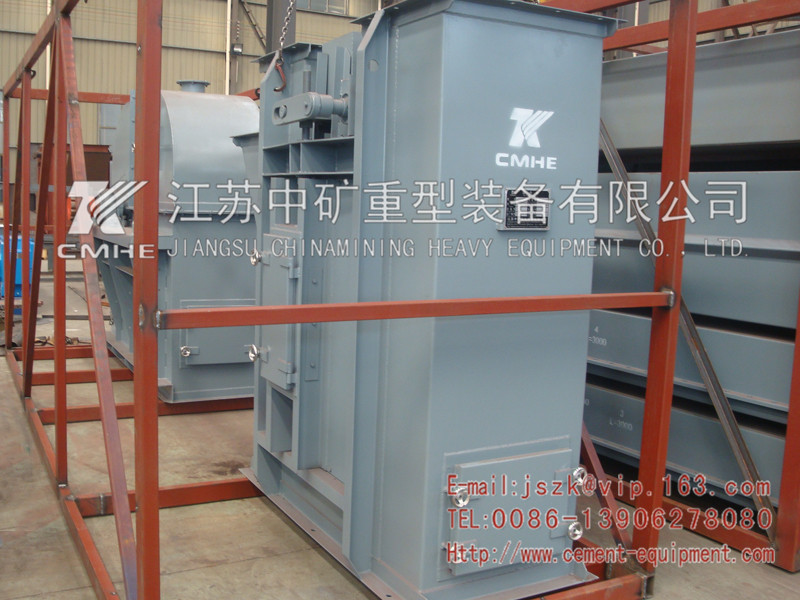 Steel wire bucket elevator is characterized by big conveying volume, small volume, lower consumption, stable driving and long life etc. Steel wire bucket elevator suits to convey dry and bulk material or lift material in vertically. It is widely used in building material, metallurgy,chemical industry, foodstuff, power generating plant et.c bulk material lifting system which is new and dry cement plant, inlet raw material ffrom rear kiln, raw material homogenized silo, and an ideal replacement product of replacing abroad same specification product.
N-TGD steel wire bucket elevator is an important equipment to convey bulk material in vertically. It is characterized by big conveying volume, high lifting height, stable driving and long life etc. It is widely used in building material, chemical industry,coal, power generating plant and port transportation of conveying material system.
N-TGD steel wire belt bucket elevator is introduced the technology of Germany AUMUND steel wire core belt conveyor. At present, this series of bucket elevator is similar to abroad same product in conveying capacity and conveying performance, replce the import in partial. 
Product character:
1. N-TGD steel wire bucket elevator is a new series product, There are eleven specifications from 250~1600 according to the width of conveying hopper. The Max. conveying volume is1325m3/h,and The Max. lifting height is <100m.
2. N-TGD bucket elevator use crack resistant wire rope core as the driven parts.
3. Head part, tail part and middle shell has used effective sealing treatment.
4. Bucket elevator is centrifugal discharge and load with the way of pulling out.
5.Driving device is used vertical shaft reducer and hydraulic coupler.
6. Driving device is arranged inching device for repairing equipment.
7.The bottom tension device use balance silk pole structure type.
8. The bottom is arranged level meter and speed sensor. Supervise the driving condition of the bucket elevator.
Ⅲ、Sample of marking
For example: N-TGD400x90--Y90F right 1
N-TGD— type of bucket elevator、400—width of hopper(mm)、90—wheel base of bucket elevator(m)
Y90—Yseries motor of 90KW、F—with appendix driving device、Right 1—Installation way of driving device
Ⅳ.Structure of bucket elevator and the drawing with hoppe
Bucket elevator is composed of upper section, middle section, bottom section, belt with hopper etc. driven parts, driving parts and repaired platform outdoor.
1.Bottom section is composed of inlet opening, bottom shell, diverting pulley and tension device.   
2.Middle shell(for repair),Each set is one node for installation and repaired driven parts.
3.Middle shell(deviation resistant),Put one middle shell for each five nodes.
4. Connection plate,Put one for each five nodes.
5.Middle shell(Standard),L=2m。
6. Connection frame, put on for each five nodes.
7.Middle shell(non-standard),L is from 0.5 to 2m.Usually install No.1 node or No.2 node of upper section.
8. Upper section includes upper shell and driving roller groups.
9. Driving device.It is composed of motor, vertical shaft reducer, hydraulic coupler, back-stopping device and inching device.Driving device has right 1、right 2、left 1 and left 2,Figure 1 is right 1 installation way.
10.Outdoor operation desk
11. With hopper device
Steel wire bucket elevator use the bel t of high strength steel wire core, overcome the dynamic loader of chain and chain tooth. The lifting chain is lighter, stable work, to get higher production efficiency with quicker driving speed.In the same work condition, material loader and linear loader of driven parts will become small because work speed is higher and self weight of the belt is light. As the belt has good elastic and flexible, when the hopper is driving, it reduces the vibration.Therefore use high strength steel wire core belt, increase the lifting height and conveying volume. So steel wire bucket elevator has a good development scene.
1.Drivng parts:Use special design with tearing resistant and high strength steel wire core belt, equipping with special belt connection and fixed parts of hopper, make belt drive dependable. The design of hopper is reasonable and has different type arrangement, ensure material to lift and discharge continuously.
2 .Driving device:Use the reducer of straight shaft and hard tooth surface, connect with main shaft of bucket elevator,equipped with hydraulic coupler, inching repair motor and back-stopper. The structure of driving device is reasonable and realizes soft starting.
3. Upper device:The design of rolling cylinder uses the design of automatic and middle device. The rolling cylinder use high capacity rubber package. The life is long and the friction is big
4.Middle shell:The shell is applied excellent design and double passageway. Avoid of disturbing of worm flow of belt for high speed driving.
5.Bottom device:Use chain wheel tension device, adjust tension at the same time.The design of rear rolling cylinder is used automatic and middle design, attaching misalignment device amd level control meter.
6.Protection device: The head and rear device is arranged misalignment device. When the belt is misaligning, send conveying signal to central control room, cut off the power of main motor. The tail of bucket elevator is arranged level control meter and rotated switch.