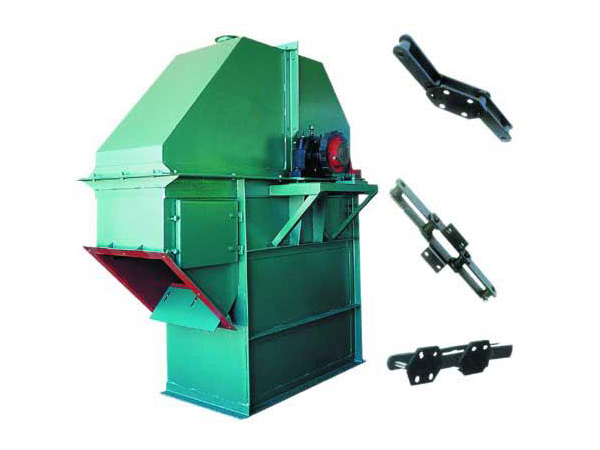 Characters and technical requirments of type NE,NSE series chain bucket elevator
The material flow through the conveyor while feeding, avoiding squeezing and crashing between conveyor and material. Thus it runs stably with convenient maintenance.
◎ The conveyor is linked to the plate chain instead of linking points by points. Thus the using life is increased and it can over five years.
◎ The material flow through the buckets while feeding and it is guided by gravity while discharging. The buckets' speed is very high (15-30m/min). The power when there is without feeding back of material is just 40% of common bucket elevator.
◎ The driving efficiency is high and It can run for over 30 thousand hours without any obstacles.
◎ Big conveying capacity,The conveying range is from15-800m3/h.
◎ Good sealing capacity and less environment pollution.
◎ Easily operation and maintenance, few easily worn-out parts.

Abrasion resistant bucket with high filling rate


Ⅰ、Material of bucket:16Mn abrasion resistant plate.
  Ⅱ、Filling rate of the bucket:75%-90%(Confirmed by the speed and material)。
  Ⅲ、Abrasion plate with material in.
  Ⅳ、Two pieces of wing plate extending from the side plate, guiding material when feeding and discharging.
Ⅴ、Protective full welding with CO2 molding bed.
  Ⅵ、Four holes connecting with chain are punched into the form.

Alloy steel wear sleeve rolling chain

Ⅰ、Quality material selected from special steel plant with advanced heat treatment technology
1、Inside and outside chain plate:40Cr ;
2、Pin shaft :20CrMnMo ;
3、Sleeve :20CrMo ;
4、Roller:20CrMo;
Hardening and tempering HB293-365 ; Carbon and nitrogen carburization(0.5mm), Quenching HRC55-62; Carbon and nitrogen(0.5mm) quenching HRC55-60; Carbon and nitrogen(0.5mm) quenching HRC50-55
Ⅱ、heat treatment equipment with Net automatic-turning bag imported from Germany, carburized quenching deeply and evenly.

Ⅲ、1、Pin shaft and outside chain plate are fixed. The sleeve and inside chain plate can effectively reduce the abrasion of loading parts.
  2、The clearance fit between pin shaft and sleeve, between roller and sleeve is different according to the material, avoiding the abrasion to chains and the lengthening of the pitch.   
3、External chain plate is punched into bending plate structure. And it is convenient to fix the buckets and it can reduce the occupying space of laoding parts.

Ⅳ、Common inspection and break tension inspection test are used. It fully guarantees the technology requirements.
Head chain wheel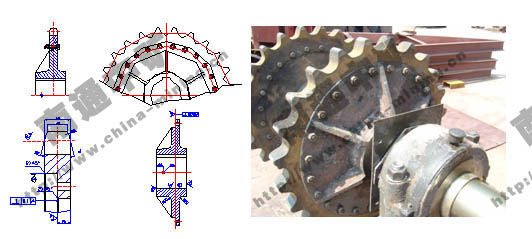 Structure:Composed of wheel hub and gear girth.
Ⅱ、Material:wheel hub ZG45;Gear girth 20CrMo forging steel;high strength and reamed bolt.Ⅲ、Technical figure:low speed with12 tooth,High speed with 24 tooth.
Ⅳ、Manufacture way:Linear cutting and manufactured in a whole part and at the same time. Cut it after installation.
Ⅴ、The way of heat treatment:Hardening and tempering of wheel hub is HB217-255;Rgidity of gear girth hardening is HRC55-60

Tail chain wheel

Ⅰ、Material:ZG35Mn。
Ⅱ、Technical figures:fine turning with nimbus and no tooth
Ⅲ、Heat treatment:Middle frequency quenching HRC55-60.
Ⅳ. Tail wheel teeth can prevent abrasion and the inconformity of the chain between the head and the tail.
NE、NSE Series plate chain bucket elevator
NE、NSE series plate chain bucket elevator suits to vertically lift different kinds of material from powder to lumps. The material will flow through the buckets instead of the traditional pulling-out feeding. It is a replace of traditional bucket elecvator.
Technical parameter of lifting chain
Type

Pitch

External dia.

Of roller

Dia. Of

pin shaft

Length of

pin shaft

Internal pitch

and internalwidth

Thickness

of chain plate

Width of

chain plate

Breaken loader(T)

NE15

101.6

26.5

11.5

70

27

6

35

10

NE30

152.4

36

15.5

90

36.5

8

50

24

NE50

152.4

36

15.5

90

36.5

8

50

24

NE100

200

44.5

19.1

120

51.8

10

60

38

NE150

200

44.5

19.1

120

51.8

10

60

38

NE150
(强力型)

200

48.5

22.2

126

57.6

10

75

55

NE200

250

63.5

31.75

146

67.4

12

90

75

NE300

250

63.5

31.75

146

67.4

12

90

75