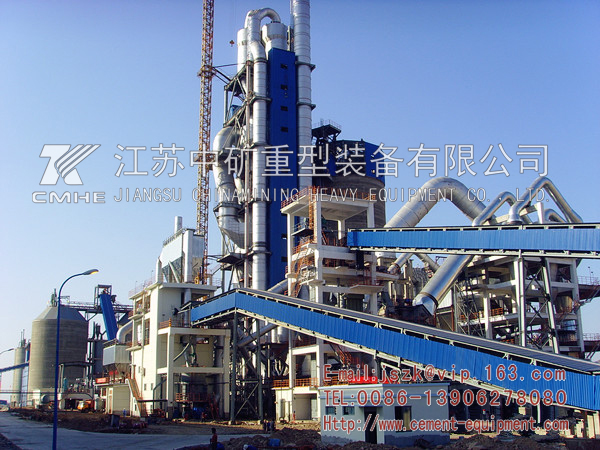 Cement production line is the production line of cement equipment consisting of a series of equipments. Mainly by crushing and pre homogenization, preparation of raw meal homogenization, preheating and decomposing, cement clinker sintering, cement grinding and packaging process.
Crushing
During cement manufacturing process, the majority of raw materials, including limestone, clay, iron ore, coal, etc. will be crushed. Specifically, due to larger granularity and higher hardness, the crushing of limestone that is maximally consumed in cement process plays critical role in the raw material crushing.

Pre-homogenization
Pre-homogenization means during the course of raw material storing and reclaiming, scientific material stacking and reclaiming techniques are utilized to achieve preliminary raw material homogenization, thus assuring the raw material storage yard of double function, namely storage and homogenization.

Raw Material Grinding
During cement production process, 3 tons of materials at least are needed to be ground to produce one ton of Portland cement. These materials include various raw materials, fuels, clinkers, mixtures and gypsum. According to statistics, over 60% cement plant power will be consumed to grind materials in dry process cement production line. Among which, over 30% is used for raw materials grinding, about 3% for coal grinding, and about 40% for cement grinding. Thereby, it is greatly significant to select appropriate grinding mill and production process, optimize technological parameters, as well as correctly operate and control grinding so as to ensure product quality and reduce energy consumption.

Based on the difference of raw materials and cement production line scale, we can provide our customer with various raw materials grinding solutions such as roller press, tube mill, and vertical mill so as to ensure economy and efficiency.
Raw Material Homogenization
The raw material homogenization system is the last guard to stabilize the constituent of raw materials.During cement manufacturing process of dry process of cement manufacturing, to homogenize the constituent of fed raw materials is the premise of stable clinker sintering.

Cement Clinker Sintering
Being completed preheating and pre-decomposition, the raw materials will be fed into the rotary kiln for clinker sintering.When the temperature rises up to about 1300℃, the solvent minerals will be liquidized. Then components such as C12A7, C2F and C2S dissolved in the liquid phase will react with CaO to produce a large number of clinkers.In the rotary kiln, the pre-decomposed carbonate will be further decomposed rapidly and experience a series of solid phase reaction, generating many solvent minerals.
According to various fuels and scales, we can offer pulverized coal combustion system, natural gas combustion system, and heavy oil combustion system to our customs so as to assure them of maximum benefit.

When cement clinkers sintering is completed, the temperature will decline, and the extremely hot clinkers discharged from the rotary kiln will be cooled by a cooler to a temperature the conveyors, storages and cement mills in next processes can bear. In addition, the sensible heat of the clinkers will be recycled so as to improve thermal efficiency and clinker quality.

Cement packing
Cement packing cement factory has two kinds of bags and bulk shipping methods. The proportion of national standards required for bulk must reach above 70%, and the development of bulk cement is a big trend in china.