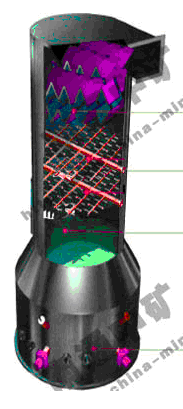 Moist gas desulfurization workmanship of Limestone/lime-gypsum is used low price and easy-to-get limestone or lime as absorbent. Limestone is crushed into powdery and then be mixed with water and made inot serous fluid. When using limestone as absorbent, lime powder digested and treated will become absorbing serosity after being mixed with water. In the absorption tower, the absorbing serosity will blend with fume. The SO2­ in the fume and calicum cabonate in serosity and the blowed oxygened air will have chemical reaction together. The final reaction product is plater. At the same time remove other polluted material in the fume, such as powder dust, HCI, HF and SO3. Desulfurized atmosphere will remove the fine liquid drop, which will be discharged into the chimney after being heated by heat exchanger. Desulfurized lime plaster will be dehydrated and reclaimed through dehydrated unit. The technology of absorption column is used single circle mist spraying and empty tower structure. It is characterized by mature technology, wide application range, high desulfurizing efficiency, high operating reliability, high using efficiency and low cost etc.
Internal structure drawing of limestone/plaster moist flue gas desulfurization workmanship absorption tower:
Flue gas system, SO2 absorption system, absorbent preparation, plaster treatment system, water supply and waste water system, electric system and control system.
The core of moist flue gas is absorption tower. It is mainly made up of spraying layer(spraying nozzle), demister, serosity tank and mixing system.
The design of theabsorption tower is simple. It is single circle mist spraying absorption column with no inside filling material and smooth surface. Optimized inlet opening of the absorption tower is smooth. The inside is forced oxygenized. The volume of plastry tank is enough. The advantages are as follows:
1. stable chemical capacity.
2.The energy consumption can be adjusted according to the loader.
3. High operating reliability.
4. High utilization factor of devices.