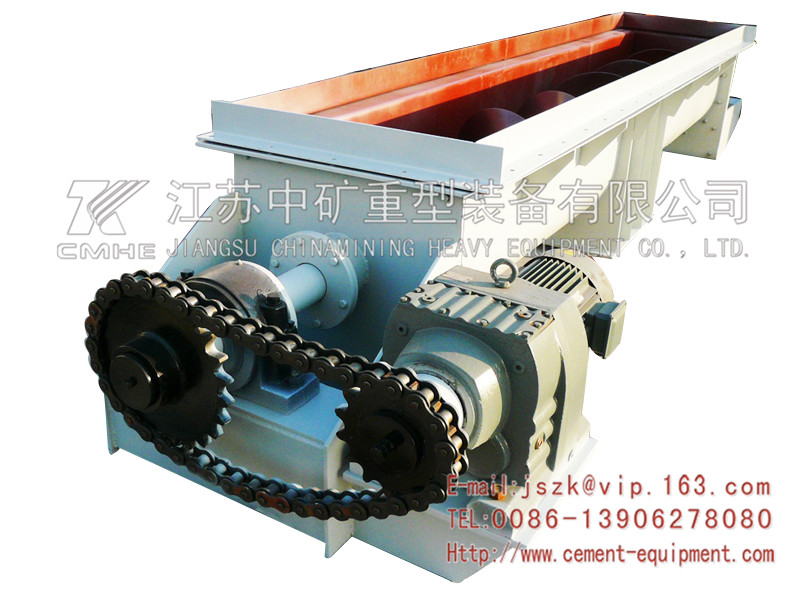 1. Characteristics
LS screw conveyor novel structure, technical index is advanced, the head, tail bearing moved to shell outside, intermediate hanging scroll, sliding bearing using interchangeable of two kinds of structure, we have dustproof sealing device, discharging end with cleaning device, the low noise, multiused, convenient operation and maintenance, access to feed opening position arranged flexibly.
2 .Range of application
The production of screw conveyor from China Mining is widely used in chemical industry, building materials, cereals, feed, food, metallurgy, mining, plastic, pharmaceutical and other industries; Suitable for horizontal or less than 20 degrees obliquity, transportation powder, granular and small block material, such as cement, coal, grain, fertilizer, ash, sand etc, material temperature 200 degrees Celsius.
LS spiral screw conveyor is unfavorable conveying easy metamorphism, big viscosity, easy to agglomerate materials, because these materials in transmission will stick checkout spiral, and then rotation and not move forward or in lifting bearing place of material product plug formation, and make the spiral machine can't work normally.
LS spiral conveyor spiral diameter from 200 mm to 500 millimeters, a total of five kinds of specifications, length from 4 meters to 70 meters, every 0.5 meters bopomofo selection should conform to the standards for nominal length, special need can be put in matching separately.
3.Classification
According to the spiral machine drive mode are divided into two kinds:
C1 molykote -- less than 35m spiral captain degrees, the ocl driver.
C2 molykote - spiral machine than 35m, double end driver.
According to the spiral machine middle shaft type crane points:
M1 -- for rolling bearings, using 80,000 hanging type, shaft cover sealed bearings otherwise dustproof sealing structure, commonly used in oil and gas, not for material have pollution or oil, where sealing effect is good, condole axletree lifespan, conveying material temperature 80 ℃ (when ordering can indicate).
M2 -- for sliding bearing, a dustproof hang sealing devices, are commonly used in conveying material temperature is higher, ℃ 80 or conveying liquid materials.
4.Model
 Technical parameter of LS screw conveyor
| | | | | | |
| --- | --- | --- | --- | --- | --- |
| Specifiction | 200 | 250 | 315 | 400 | 500 |
| Screw pitch | 200 | 250 | 315 | 355 | 400 |
| n | 100 | 90 | 80 | 71 | 63 |
| Q | 13 | 22 | 31 | 62 | 98 |
| n | 80 | 71 | 63 | 56 | 50 |
| Q | 10 | 18 | 24 | 49 | 78 |
| n | 63 | 56 | 50 | 45 | 40 |
| Q | 8 | 14 | 19 | 39 | 62 |
| n | 50 | 45 | 40 | 36 | 32 |
| Q | 6.2 | 11 | 15.4 | 31 | 50 |


Note: 1, n - speed r/min (deviation allowed within 10%)
2, Throughput Q - m3 / h
5. Shape, structure and connection size

6.switchboard decorate

A spiral machine usually according to drive device, head quarter, several standard central section, matching middle segment, tail section head quarter sequence composition, except front-housing and matching section outside, sections of spiral and cabinet are interchangeable, in discharging the spiral feeder, qing attention when installation position.
Driving devices by a planet cycloidal gear motor (or JTC decelerating motors) or choose JZQ type reducer bear in the head before the department equipped with thrust bearings and can withstand mobile materials sometimes produce axial force of the head quarter chassis equipped with dicks bearings and base, every middle segment Ann a crane bearings to support screw axis, hanging bearings equipped with centripetal ball bearings (or whole sliding bearing) in owariasaki post-festival department equipped with rolling (sliding) bearing to hold up screw axis and supplement spiral length error, when installation should head start, order.
In general arrangement, should also pay attention to is not support and discharging mouth decorate in cabinet fittings flange place, feeding port also should not be decorated in lifting bearing above, if because open material mouth influence the standby arrangement and cannot follow these principles, the use of the unit should draw spiral machine assembly drawing
1. Driving device and foot size
Drive device for XWD type of speed reducer

2, inlet and outlet feed opening
Screw machine feeding port, unloaded mouth open, generally by the user scene from the tail end of feeding, discharge, also can from the end of feeding, by the tail discharging, If need from middle part of feeding, both ends unloading, or from both feeding, intermediate unloading, ordering need to diagram.
(1) feeding port
Feeding port, the structure of the diagram below said feeding port is used to connect spiral machine and feeding funnel components, its JinZhao machine by cover buckle clip cover, usable also welding method and machine cover are linked together, the device should be installed feeding port in the machine covered by feeding port inner pore size orifice opened.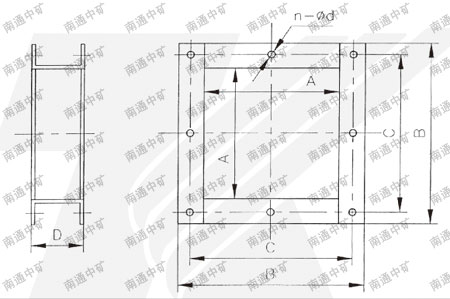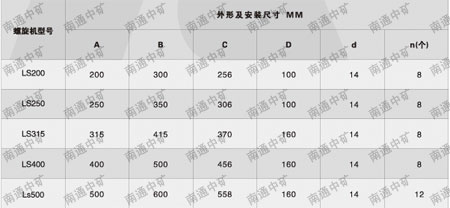 (2) Discharging mouth
The material mouth shows the diagram below, fasten by steel plate fold it into the square tubes and flange welded, do not take the discharging mouth can close control mechanism, when use will discharge mouth welded to chassis, its flange and chute flange are linked together, the assembly discharging mouth of the shell still should press discharge mouth of internal hole dimensios myriapod.