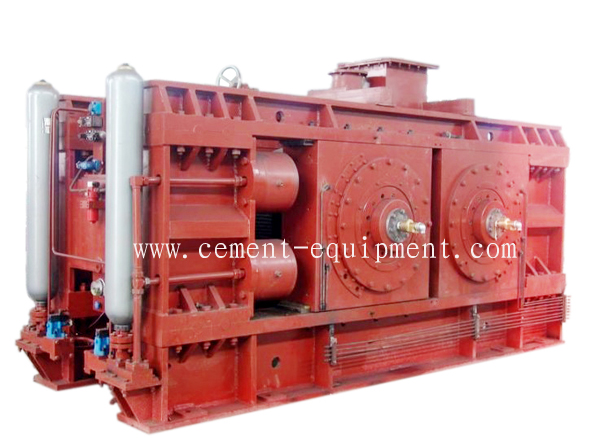 Roller press is a new cement saving energy grinding equipment and developed in the middle of 1980s, can replace the system of ball mill completeltly or in partial, it is characterized by low consumption and lower noise, also reform the old factory. After selecting the equipment, may increase output of 40-100% for ball mill, fine material of 0.08mm covers 20-55%after material cake is pressed, less than 2mm covers 65-85%, Internal structure of fine material is filled with many small cracks, the grindability is improved greatly.The roller surface is used heat built-up welding; It is conventient to maintain the abrasive layer.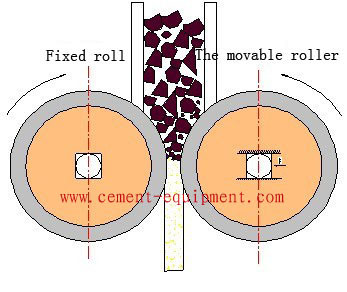 Our company started design and manufacture of roller press of National Seven five project. It has been shipped over 1100 sets into the market from 1987 to now. We have pursued the improvement and the innovation for many years. It has formed a set of mature equipment technology and complete grinding process, main characters are as the following:
1. Roller surface is used built-up welding and the international advanced wear-resist welding electrode.The used life is improved greatly.
2. The capacity of hydraulic cylinder with aviation technology is reliable.
3. The automatic control system uses touching screen dynamic demonstration.The automatic control is equipped with expert diagnose system, settle the trouble automaticallyand control reliablely.
4. Equip with classifier, V separator and rotary classifier. The separating ratio is 90%.
5. Provide technical service and process design in free.
Technique parameter
Classifier
| | | | | |
| --- | --- | --- | --- | --- |
| | | Classifying disc Dia.(mm) | | |
| | | | | |
| | | | | |
| | | | | |
| | | | | |
Type Classifier
Resistance of separating

(

KPa

)

Ningxia MingFeng MengCheng Building Materials Co., Ltd.

G180-120C raw material Roller press

HJRX3400 Dynamic separator

Ningxia MingFeng MengCheng Building Materials Co., Ltd.

G160-140 Roller press(Crude material end powder)

Qixia BaiYangHe Industry Co., Ltd.

Shanxi XiaoYi ZhongXing Cement Co., Ltd.

Anhui HuaiHai industry develops group Co., Ltd.

AlaShanZuoQiSongTa Cement Co., Ltd.

Chinese 14 YeHongHe Ziyan Cement Technological Transformation Project Headquarters

Zhejiang ZhaoShan XinXing HuNan Liuyang Cement Co., Ltd.

Harbin

Little Ridge Metallurgical Cement Co., Ltd.

Zhejiang ZhaoShan XinXing HuNan Liuyang Cement Co., Ltd.

LiaoNing DengTa HuaDing Cement Co., Ltd.

Chinese Machinery Foreign economic & technical cooperation (Vietnam GongQing)

Jiamusi Hongji Group Co., Ltd.

Sichuan TaiChang Group Co., Ltd.

Zhejiang East Coal Mine Engineering Company (Sichuan WeiDing project)

Shijiazhuang YanZhao Cement Co., Ltd.

Shanxi

ZhongSheng New Building Materials Group Co., Ltd.

NingXia Shizuishan Jinli Industry Co., Ltd.

AnHui ZhongLian Cement Co., Ltd.

XiangXi Western Hunan Autonomous Prefecture TianYuan building materials Co., Ltd.

GuiZhou

crystal materials development Co., Ltd.

DSF650/140 Classifier (Double rotor)

Shijiazhuang

strength cement plant

DSF650/140 Classifier (Double rotor)

Hebei Gaoyi County, Feng City Cement Co., Ltd.

Jiamusi

Northern Cement Co., Ltd. (HuaNan)

DSF650 Classifier (Double rotor)

Jiamusi

Northern Cement Co., Ltd. (QiTaiHe)

Jiamusi

Northern Cement Co., Ltd. (TongJiang)

DSF500/100 Classifier (Double rotor)

Harbin SanFa new Energy conservation building materials Co., Ltd.

DSF550/120 Classifier (Double rotor)

Zhejiang

Double Eagle Cement Plant

Hangzhou Yunfeng cement Co., Ltd.

Shandong ShunXing Cement Co., Ltd.

Hunan YinShan Industrial Group, YinShanTai Cement Co., Ltd.

Shaoxing County WanNianQing Cement Co., Ltd.

Chinese Heavy Machinery Corporation

Tongxiang tudian Cement Co., Ltd.

Fuyang Teng City Cement Co., Ltd.

Shenzhou City AnHua Building Materials Co., Ltd.

Zhoushan YuJin Cement Co., Ltd.

ZheJiang Mingfeng Cement Co., Ltd.

Sanya HuaSheng Economic Development Co., Ltd.

Xuzhou Chengyi Cement Co., Ltd.

Hebei Zhongda Group Co., Ltd.

Jiangsu JiuNiu Cement Co., Ltd.

Zhejiang ShenHe Cement Co., Ltd.

ShanDong FeiCheng Mishan Cement Co., Ltd.

Lianyungang Bangu Cement Development Co., Ltd.

Nanyang City Hengyuan Cement Co., Ltd.

Inner Mongolia TongDa building materials Co., Ltd. (Baotou)

ZheJiang

NingBo Daxie Wanhua Thermoelectric Materials Co., Ltd.

Hunan YinShan Industrial Group, YinShanTai Cement Co., Ltd.

DSF550 Double rotor Classifier

G120-45 Shaft roller press

ZheJiang Jinhua Gaofeng Building Materials Co., Ltd.,

Classifier (Double rotor)Φ5500

Yunnan Jiangchuan Cuifeng Cement Co., Ltd.

Classifier (Single rotor)Φ5500

Colombia Cementos Tequendama company

Classifier (Double rotor)Φ5500

Lianyungang Bangu Cement Development Co., Ltd.

Longyou Hongsanjie Cement Grinding Co., Ltd.

Guangdong Province Longchuan Longjian Cement Co., Ltd.

Longyan City Xinluo District Xiaochi cement plant

Hubei Province Yichang HuaLin Cement Co., Ltd.

Ningbo MingFeng Building Materials Co., Ltd.

Inner Mongolia Ordos City ShengYuan Co., Ltd.

Shandong Longkou Changheng Cement Co., Ltd.

Shijiazhuang Cement Co., Ltd.

DSF550/120 Classifier (Double rotor)

Mudanjiang Tianma Cement Co., Ltd.

DSF550/120 Classifier (Double rotor)

Tengzhou City Dongkuo Cement Co., Ltd.

DSF550/120 Classifier (Double rotor)