Adjustable valve for material is a newly designed valve for asjusting and shutting. It is widely used in the pneumatic conveying system of building material, metallurgy, mines, light industry,glass instustry etc.  
 Structure features:
  Adjustable valve is welded by quality carbon steel. It has upper and lower passages .The lower is aerating layer and the upper is for conveying material. Ventiliating layer is in the middle. The opening of screw gate can be adjusted at will. It is especially applied in dry material and fine grain material without viscosity.It is characterized by low consumption, no noise, no pollution, less maintenance, no blockage, easy operation and long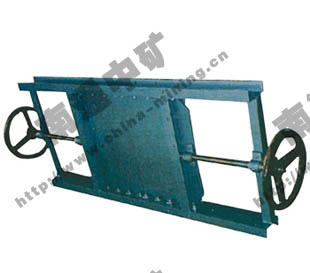 Technical parameter:
| | | | |
| --- | --- | --- | --- |
| | | | |
| | | | Cement raw material,finished cement, talcum powder and alumina etc. |
Work principle:
  Adjustable valve will be provided small volume by the fan,via bottom passway for aeration. The gas will be sprayed through boiling late. Repeat it and make material forward. The adjustable valve is compoesed of gate of screw mandrel and sealing pairs etc. Drive screw mandrel and move it.Adjust or cut off it easily
Operation description:
  Check gate inside whether they have sundries and whether does the rimmed steel plate get wet before installation. If the rimmed steel plate gets wet, change it first and then install it. Otherwise it will affect the efficiency. Check all driving parts and see whether they are nimble and reliable. Gasket seal should be added between the flanges firstly and then tighten the bolts.
When commissioning, drive hand wheel by hand. The clockwise direction is off. On the contrary, it is on. It's ok when there is no blockage during running.
WCF-Z outline dimension: WCF-X outline dimension: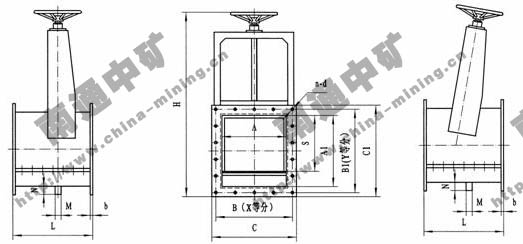 WCF-Z/Xoutline connection dimension: