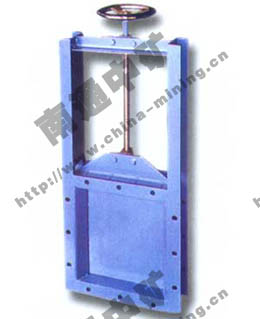 LZ scew gate is widely used in the top silo,bottom silo, inlet and outlet of building materials, metallurgy,mines,electricity,chemical engineering,glass,light industry,food industries, ect. It is an ideal equipment to control big flow change, frequent starting and swift shutting.
Structure features:
  LZ screw gate is characterized by simple structure, nimble operation, light weight, no blockage and swift shutting. It's espeically suitable in the conveying and flow adjustment of no viscosity solid, powder material, grain material less than Φ10mm and crystal grain material. And its installation is not limitted by the angle. It is easy to operate, and the opening can be adjusted at any time. The valve has two operation types which are hand wheel and chain wheel. Type I is hand wheel and Type II is chain wheel. It has two structures, single direction and double direction.LZD is the single direction and LZS is the double direction.
Work principle:
  LZ screw gate is mainly composed of frames, flashboard, silk pole and nuts etc. Rotate the hand wheel by hand which drives the nut of silk pole and flashboard along with the silk pole back and forth horizontally in order to start and close the gate.
LZ outline connection dimension:
Notes for operation:
• The gate can be installed in horizontal or vertical. During installation, there must be sealing gasket between the two flanges. Then lock the connecting bolts.
• The rotation in clockwise when operating means in open position. Not allowed to add auxiliary lever.
• If it is stored for a long time, close the equipment. All driving postion should be filled oil. Not allowed to be stored in the open air.