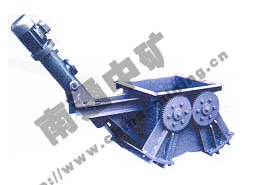 Jaw gate is applied in all kinds of bulk material such as mining stone, coal, coke, dust slag etc. whose pile density is<=2.5t/m3 . It is widely used in bottom discharge of building material, metallurgy, chemical industry and glass industies etc.
Structure features:
Jaw gate is welded by quality carbon steel plate and characterized by unique structure,nimble & reliable using and no blockage. Equipping with different driving devices can meet different work condition. Motorized jaw gate is used motorized handspike with overload protection device. It may avoid the motor being burnt out. It can be operated in remote distance or controlled by programs. Reciprocating travel can precisely adjust the position self locking. Electrohydraulic handspike is used in Electrohydraulic jaw gate with the whole hydraulic pressure driving. Pushing and pulling power can change speed steplessly. Pneumatic jaw gate operates in long diatance and controls locally with the help of pneumatic handspike and other assemblings. SEF is manual. DEF is motorized, Y is electrohydraulic. QEF is pneumatic.
Capacity parameter:
| | | |
| --- | --- | --- |
| | | |
| | | Solid crystal, coal, coke,dust slag,chemical products and all kinds of ore etc. |
 Parameter of driving device:
Applicable load of gate

(

Kg

)

electrohydraulic handspike
  EF-C outline dimension: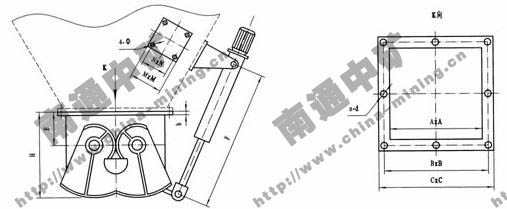 EF-C outline connection dimension:
Working principle:
Jaw gate is composed of body, fan flashboard, shaft, gear, sealing segments and actuator etc. The rocker can be either pushed by hand or by the actuator. Then the gear drives fan flashboard and makes it rotate along with the core of shaft, which makes the two fan flashboards open towards two sides respectively. Material will fall down at the same time. After the loading device is full, the actuator will drive the rocker and make fan flashboard back to the original position and cut off the falling material.
• When installation, remember marking the flow direction of media on the vlave body. Sealing gasket must be added between two flanges and evenly tighten the bolts.
• When driving, find out the direction of the fan flashboard switch. please connect the wire correctly of the actuator.
• After installation, grease should be filled to all driving positions in fixed time.