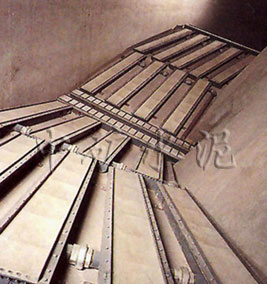 Ⅰ、 Brief introduction
Continuous homogenization silo is feeding material continuously from top silo. Aerate and mix at the same time and discharge continuously to reduce discharge pressure in silo, eliminate funnel flow. There is 6 to 12 discharge holes around the mixture room. There are 6 to 12 aerating zone between mixture room and silo wall. When discharge, feed material in turn to the center room when discharge. The material of entrance mixture room will mix again because of aerating continuously. Make qualified raw material discharge from high position and discharge from over flow pipe. The rest air will be discharged into external circular zone and draw to purify in the dust filter. But request raw material dosing system stable and dependable. It is characterized by low cost, lower power consumption, nimble technical arrangement, tight structure and simple operation etc. The homogenized value is 5 to 9. Power consumption is 0.1-0.2kwh/t.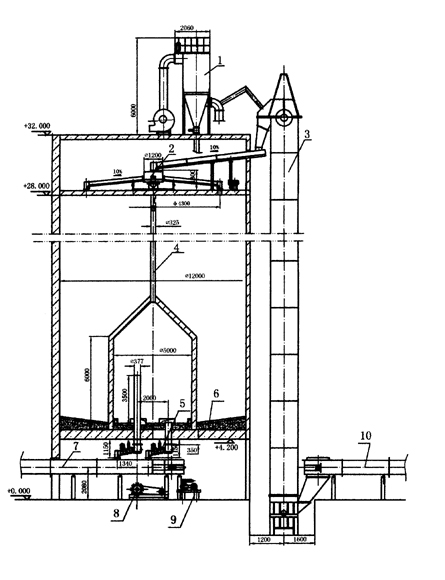 Equipment list of Φ12m continuous homogenization silo
Air case pulse dust filterPPCS32

-

4

 

Fan

:

9

-

26

 

No

 

8D Star dust discharge valve

:

300×300

Elevator TGD400×38000

 

Conveying capacity

:

150m3

/h Speed of the hopper

:

1.5m

/s

Reducer ZLY22

-

20

 

Motor Y225S

-

4

 

37KW

Air exhaust pipe of center room

Discharge device B400/315

Aerating case in silo and pipeline system

FU chain conveyor FU400×L Conveying capacity:110m3/h

speed of the hopper:30m/min

L is confirmed by the process.

4 8-spouts air distributor Φ500mm

 

Cycloid pin wheel reducer:BWY2715

-

1505

 

1.5KW

Roots fan

(

for homogenization

)

ARD

-

145

 

Air volume 18.4m3/min Air pressure :68.6Kpa

 

37KW

 

Air filter

、

inlet and outlet silencer , manometer, check valve, reversion valve, connection and pedestal.

FU chain conveyor FU400×L

 

Conveying capacity:110m3/h Speed of the hopper: 30m/min

L is confirmed by the process.