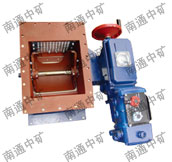 I Brief introduction
Flow control valve is used to control the flow of material discharged from the bottom silo. It is usually used together with rotary valve. The material will first go through short part of chute to make it fluidized and then goes into the flow valve, which can avoid stock column at the flow controlling part. The opening of the flow control valve is adjusted by the electric actuator. It can be controlled remotely to satisfy the calculation of the system. Rotary valve is mainly used as switch in the material flow control system and is usually used together with motorized flow control valve, which is widely used in building material, metallurgy, chemical industry, food, glass etc.

II Structure features
It is with scientific design and tight structure. There is U-type opening at the valve core, which can adjust the opening and control the flow. The indicating dial can indicate the opening of the valve core. There is safety pin on the coupling between valve core and electric actuator to prevent the valve core and actuator being damaged. There is gasket at the entrance of the valve to separate the valve body and valve core. The clearance between the gasket and valve core can be adjusted to ensure the nimbleness of valve core. The flow control valve is used with DKJ actuator. Rotary valve is used with 10-5A pneumatic handspike.


III Technical parameter
Cement raw material, cement product, powder of aluminum and magnesite, mine powder, fossilmeal
IV Working principle
Flow control valve is mainly composed of seat, valve body, sealing valve, bushing, valve core, bearing, ventilating layer, aerating chute and driving device. The fan gives low pressure and small volume air, which will go through the pathway and aerate the chute. Air goes through the ventilating layer and blow air upward to make the material flow upward. When the material falls down, the inclination of the equipment will help the material move forward continuously. The actuator will drive the coupling and valve core to adjust the material flow. The rotary vale just works as switch to give order to the handspike by means of solenoid valve controlling pneumatic handspike source and finish the whole shifting.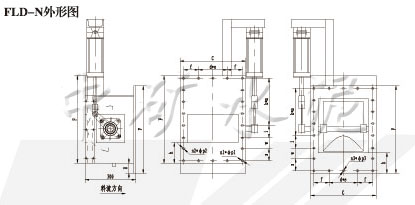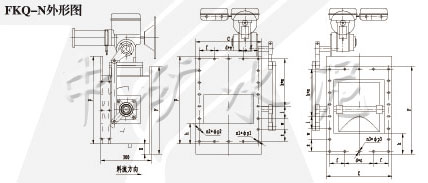 V outline connection dimension

VI Instructions
Before installation, please check whether there is sundries inside, or it will block the U-type valve core and damage the valve parts. Check whether the boiling plate is moist. If it is damp, first change a new one and then install it. Otherwise, it will affect the using efficiency. Check whether all the driving part is nimble and reliable. When installation, the driving part can not be used for lifting and it mustn't be damaged. There should be sealing pad between two flanges and then evenly tight all the bolts.