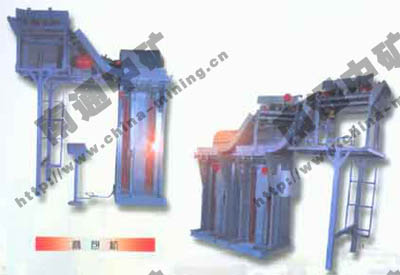 Brief introduction 
Type DBG1-10 fixed stack charter is a new type of stacking charter. It is characterized by simple structure and dependable capacity; it is a new ideal stacking charter machine. Especially for all kinds of 2-spouts cement packing machine. Save manpower for cement industry, reduce labor strength and improve work efficiency.
Main composition
1、Machine frame 2、Main shaft 3、Loading door 4、Lifting hooks 5、Conveying part
Work principle
  Stacked charter is unit stacked charter. There is a small belt conveyor in the top-left. The packed cement bag is via belt conveyor (hereafter called main belt conveyor), is conveyed to small belt conveyor. Small belt conveyor will be conveyed to sliding chute. Cement bag will be loaded to loading door through sliding chute, touching inside travel switch of loading door. When cement bag is fallen down to some position, cement bag and travel switch will have no touch. Do the above work again; ten bags will turn over the trolley when it reaches ten bags. Then move support plate to initial position. Repeat the above process again.
Main technical specification:
1、Stacked bag position                1pc
2、Quantity of each position stacking bag
      10bags
3、Power of motor YEJ100L18-4/1.1KW set
4、Reducer:BWY18-71 1set
5、Motor type of small belt conveyor A0-7134
6、Ratio of the reducer of small belt conveyor WDH/40.1
7、Speed of small belt conveyor 0.3/S
8、Output of stacking bag 30-60t/h
9、Outline dimension(L*W*H) 3150*1090*2280
10、Weight 2000KG
Notes:Type DGB2-10 double position stacked charter is equipped with more 6-spouts packing machine. Work principle is the same as single work position.