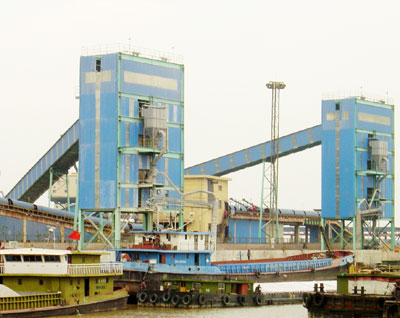 1. Product descriptions
SZC-7500Y rocker ship bulk loader is the special equipment for bulk loading of shipment of cement, and can be used for the industries of building materials, electric power, metallurgy, coal, chemical and other industries for shipment of non-corrosive, low abrasive powder
materials.SZC-7500Y rocker ship bulk loader is non-stereotyped product designed specially under specific process conditions, the requirements refer to "truck bulk loader for cement industry ","train Bulk loader for cement industry" and other industry standards designated by the Company of China's manufacturing technology and equipment of building materials.SZC-7500Y rocker ship bulk loader is composed of steel tower, electric rotary arm, air slider,electric hoister, material-full controller and telescopic bulk loader discharging head and other parts. Its rotational angle can be up to 180 degrees to satisfy the shipment requirements of different types of ships and technical conditions.
A dust filtering interface is installed on the side inlet joint of SZC-7500Y rocker ship bulk loader. The dust air is exhausted though the dust filtering interface after treated by the filter,which means that a clean non-dust loading operations can be realized. The micro material full controller used as automatic alarming and shutdown has high sensitivity, reliability,independence of interferences by temperature, humidity, magnetic, acoustic, mechanical shock and vibration and other environmental factors. Therefore it can effectively prevent the material from spilling and achieve an automatic controlling.