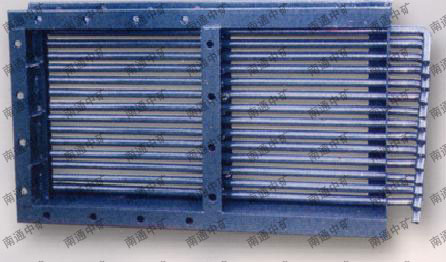 Ⅰ、 Application
It is new type of gate developed according to the process request such as conveying control and feeding of middle and small solid and lump material in building material, mine and metallurgy etc. Suit to control material of ≤50mm.
Ⅱ、Structure character
Single and double layer bar valve is characterized by simple structure, easy operation, no blockage. It
overcomes the shortcoming of big starting and closing force for big grain material and of that it cannot be closed. As it is
operated by single rod, it is operated conveniently and nimbly. The whole structure is welded by
excellent steel. Thus it is with good rigidity, free deformation, long life and without maintenance. It is an ideal piece of equipment for middle and small crystal and lump material.
Ⅲ、 Work principle
Single and double layer bar valve is composed of frames and rods. When rods are inserted into frame, one group of rods will compose into one parallel grating plate and block the lump material at one side of the gate. If one grating plate is taken out, it will appear one bigger clearance and material can go to the side of the gate. The quantity of bars taken out is decided by the requirments of the process.
Ⅳ、Type description
Ⅴ、Main technical figures
| | |
| --- | --- |
| | Below Φ500mm grain material |
| | |
Ⅵ、Main outline and connection dimension