Screw gate is a main piece of control equipment in powder material and grain material. Screw gate is widely used in the top, bottom, inlet and outlet of the silo of metallurgy, mining building material, foodstuff, chemical industry etc. It is an ideal equipment to control variable flow, open and close frequently, and shut off swiftly.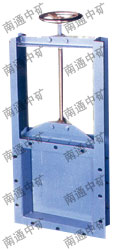 Structure characters:
With simple structure, nimble operation, light weight, no blockage, quick shift, screw gate is especially suitable for the conveying and flow adjustment of all kinds of powder material, crystal grain of less than Φ5mm. The installation is not limited by the angle. Screw gate is convenient for starting and stopping in two directions and the opening can be adjusted at any time.