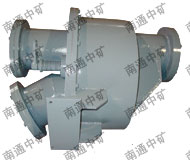 application
SK double road conveyor valve ordinary suitable for building materials, metallurgy, mine, petrochemical, power, light industry and other industries, used for high pressure pneumatic conveying cement, cement raw, limestone, pulverized coal etc powdery substance in the pipeline system, plays the role of conveying commutation, generally installed in the pipeline bifurcate parts.
Second, the structure characteristics
SK double road conveyor valve internals technology is used to rotate the valve disc, pressure regulating valves disk with by sealing device of identical, the valve plate appearance using knife-edge forms, so that in the motion of resection on sealing attachments, ensure sealing performance.
Nantong China-Mining
double road conveyor valve perfect structure, reversing flexible, reliable, and good air-tightness and wear resistance, etc, and transmission channel smooth, no jam, ensure fluid flow. S for worm gear type, D for electric transmission type, Y for electric hydraulic transmission type.
Three, working principle
SK double road conveyor valve is mainly by the left, right body, rotate the valve disc, adjusting device, sealing and locating CAM etc. Parts. Manually operate the handwheel drive worm drive attached pole, the valve plate operating together in the valve body movements that are direct or branch position, dial feedback disc position; When device drivers get command the action, drive joystick, the valve plate motion, make the body together in direct or branch position, and feedback position signal, locating in the disc CAM mechanism to too, action electrical switch, feedback signals.
Four, model establishment instructions
SKK - 150 S worm gear, D electric, Y electro-hydraulic actuator
Five, the performance parameters
| | | |
| --- | --- | --- |
| | | |
| | | Coal, raw, cement powder and granular materials |
Six, contour map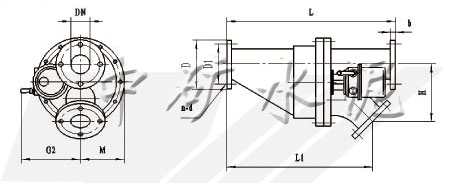 Seven, appearance connection size