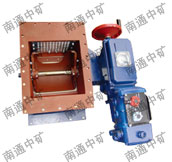 Ⅰ、Application:
Main valve of B250 motorized flow control valve is the same with switch valve, only the driving device is different. The driving device of flow control valve is an adjustable motorized actuator. Flow control valve is used together with pneumatic switch valve in series. Technical parameter refers to pneumatic switch valve.
Ⅱ、Technical capacity:
Remarks
:
1
、
* is the parameter when installation angle is 6°. 2
、
Outline installation dimension refers to pneumatic switch valve of table 2.