ZAJV electronic motorized V type adjustable ball valve is matched with LKR series motorized actuator, not need to be matched with servo amplifier. If there is control signal(4-20mADC or 1-5ADC) and single phase power, it may be controlled and operated, so that the parameter of pressure, flow, temperature, hydraulic position can be adjusted. There is a V cutting on the valve core. It will rotate with hard sealing valve seat and produce the shearing force, which may cut off the fibre and avoid of blockage. Motorized V type adjustable ball valve is characterized by ventilated capacity, high adjusting precision, big adjustable ratio, good sealing and light weight etc. It is suitable for most conditions except in which there is small opening, angle type and three-way connection. It is the best product to replace the imported one, and it is especially suitable for the media of slurry, fibre and small solid floating material. It is widely used in the automatic control system of industry process of paper-making, sugar making, petroleum, chemical industry and metallurgy etc.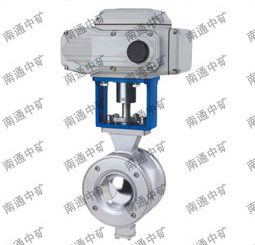 Ⅰ、Valve body
Nominal diameter: 25-300mm
Nominal pressure:PN1.6, 4.0, 6.4Mpa
Connection type:The flange is connected according to JB/T79.2-94 concave or JB78-5P clamp type.
Filling material:WCB ZG1Gr18Ni9Ti CF3M
Filling material:V type filling material of polytetrafluoroethylene, filling material includingpolytetrafluoroethylene, filling material of asbestos wove, filling material of anti-high temperature carbon fibre石棉编织填料。耐高温碳纤维填料
Temperature:Normal temperature:-20℃~+120℃ heat scattering:+200℃~+450℃
Ⅱ、Parts in valve
Type of valve core:
V gap hemispheroid
Flow character:equal percentage character
Valve pole of sphere is 2Cr13, 1Cr18Ni9Ti and oCr17Ni12Mo2 (316L)
Material of metal valve seat:It is the same as valve pole. Sealing and overlaying welding cobalt and chrome hard alloy, non-metal material, strengthen Polytetrafluoroethylene .
Ⅲ、Actuator
Type:angle travel actuator of series PSQ、LKR、3810 and anti-explosive type3810 series can be selected.
Ⅳ、Technical parameter of V type ball valve:
Less than nominal pressure

(1.6MPa)

According to the standard of API598 for resting. No leakage

Environment temperature ℃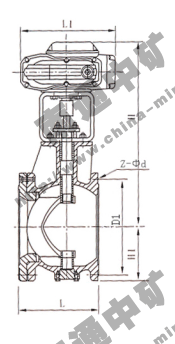 Ⅴ、Outline dimension of ZAJV electronic motorized V type adjustable valve
Ⅵ、Type description
F

:express tetrafluoroethylene

G

:express middle temperature. normal temperature is omission.

D

:express butterfly valve

H

:express metal hard sealing

P

:express stainless steel
 Ⅶ、Notes for order
1. Product type and name 6.Rated flow factor
2. Nominal diameter DN(mm) 7.Type of media and temperature range
3. Nominal pressure 8.starting and ending pressure of valve (DP)
4. Flow character 9.Power voltage and control signal
5. Material of valve body 10.Other special requests