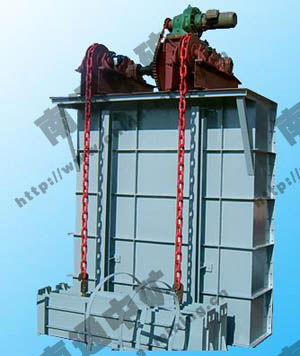 Brief introduction:
High temperature gate is used together with cycloid pin wheel reducer. It can automatically adjust and control the media in the pipeline of chemical industry, metallurgy and building material. High temperature gate suits for those with big diameter, big volume and low differential pressure. It is characterized by big circulation capacity, stable and nimble action, big torque actuator. It can also endure high temperature.
Technical capacity:
Casting steel, carbon steel, stainless steel, heat resistant steel, high temperature refractory mud
Installation and commissioning:
1、There should be interlocking among the driving motor, the upper and lower travel motor. The motor should be added over-load protection device. The moving of gate valve under the travel range should be operated in CCR or be operated locally according to the commissioning requests. The details refer to specialized design.
2. The installation of the reducer, motor and the chain wheel drive should comply with technical requirements of installation. After installation, all parts should run nimbly. The driving chain shouldn't be too tight or too loose. The washers can be used to meet the requirements while using.
3.The length of the two chains of gate plate should be the same. Adjust gate valve which is vertical to the balance weight. Move it up and down slowly and it should not have any blockage. When valve plate is closed completely, the needle of balance weight gauge should point to the scale.
4. After site installation, the support of travel switch should be welded deadly.