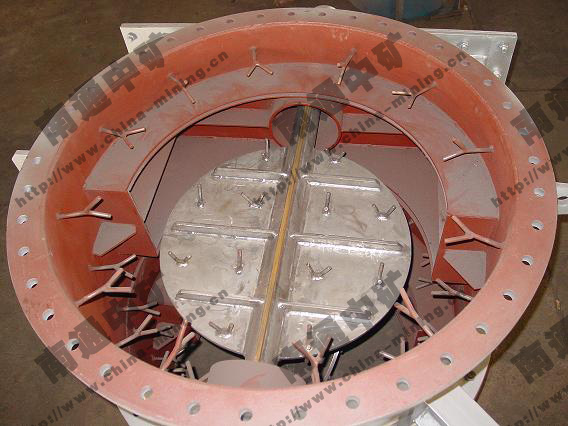 Sealing ring of floating compensation
  There are mainly three types flexible sealing rings, U type, half O type and lip type for the sealing structure of high temperature adjustable sealing butterfly valve in the domestic and abroad market, which are of below disadvantages:(1)Sealing ring is formed in crushing pressure, with serious stress concentration. In high temperature, the material will annealing and lose flexibility. It will cause the deforming of sealing ring and cause leakage.(2)The hardness of sealing material after heat treatment is too hard, and it is not elastic. The brittleness is increased. When sealing ring seat is squeezed by butterfly plate frequently or works in lower temperature, it will be easy to break because of tiredness of valve seat. (3)The above three structure is formed with crushing pressure, so it can only be made into small opening. Big opening should be finished by crushing pressure, shaping and connection welding. This kind of manufacture workmanship has the shortcoming of stress deforming and unlevel welding, which will cause leakage. Have a bad effect on the using life of butterfly valve.(The details refer to figure 1)

DTDA three deviated core metal sealing butterfly valve has collected the advantages internally and externally, and has its own special structure character: Apply floatable sealing ring. Sealing ring in valve body may adjust its own position according to the pushing power of valve plate closing. Floating sealing may compensate the deforming and heat expansion of the valve in different conditions (such as high temperature). Thus eliminate the damage of sealing surface.
The sealing pressure is even, which delays the life of sealing parts and improves the sealing efficiency of sealing parts. This structure settles the problem of sealing leakage when temperature changes.(the details refer to figure 2.)