application
DTLV -0.1 motor-driven push-rod flat gate is
Nantong China-Mining
improve products, widely used in building material, metallurgy, mining and other industries, is the ideal control dust material flow equipment.
Second, working principle
DTLV -0.1 motor-driven push-rod flat gate mainly by the frame, gate, DDT motor-driven push-rod etc parts. Work, driven by electricity connecting thrust role for wedge horizontal reciprocating motion, reach the valve opening and closing purpose.
Third, the main property parameter
Four, model establishment instructions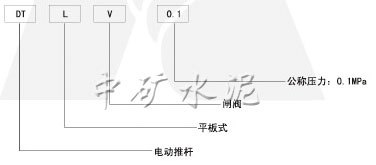 Five, the main appearance and connection size