application
QTLV -0.1 pneumatic draw stem flat gate is
Nantong China-Mining
improving the traditional institution products, advanced technology and the reliable quality. Widely used in metallurgical, mining, building materials industries such as dust material flow control pipe, is to control an ideal equipment be rapid open-close.
Second, working principle
QTLV -0.1 pneumatic draw stem flat gate mainly by the frame, gate, cylinder parts. Work, because cylinder gas pressure changes, makes the piston rod drive disc for horizontal reciprocating motion, thus reach the valve opening and closing purpose.
Third, the main property parameter
Four, model establishment instructions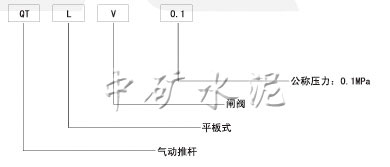 Five, the main appearance and connection size