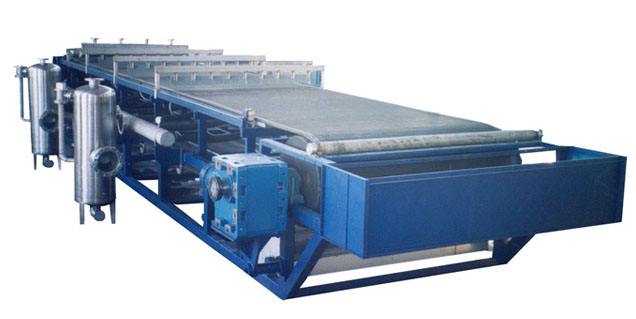 Vaccum belt fulter is a kind of high efficiency separation equipment used to swiftly filter and separate all kinds of floating material made of solid and liquid. It is mainly made up of rubber belt, driving roller, tension roller, vaccum chamber, feeder unit, filtering cake washing unit, filtering bag correcting error unit, filtering bag tension device, driving device, filter belt washing unit and control cabinet etc. The structure is advanced, using high strength rubber belt and filtering belt which is used not only as circular filtering belt, but also as conveying belt. When working, the material will be distributed onto filtering belt eveny through the inlet device and form into filtering cake under the effect of vaccum. It finishes circulation after being filtered, washed, dehydrated, cake discharged, filering cloth and filtering belt washed.
The advantages of vaccum belt fulter
   Vaccum belt fulter is characterized by high filtering efficiency, good washing efficiency,complete rebirth of filteirng cloth, nimble operaion, high automation, low cost for maintenance, continuous and high efficiency filtering and filtering cake washing, multiparts counter current and cocurrent washing, good filtering capacity, high solid-content of slurry, high quality filtering cake and filtrate gaining ability, low moisture of filtering cake etc. It is especially suitable for the process of large volume, quick falling speed. The filtering cake has to washed through multistages.
  Frame structure of modularized design;
  composite material suppressed by mould and high strength rubber belt of exellent structure are used.   
New type filtering belt automatic correcting system
;
  New type filtrate afflux system;
  Filtering belt automatic tensioning unit;
  Special vaccum sealing device, good sealing efficiency and long using life.