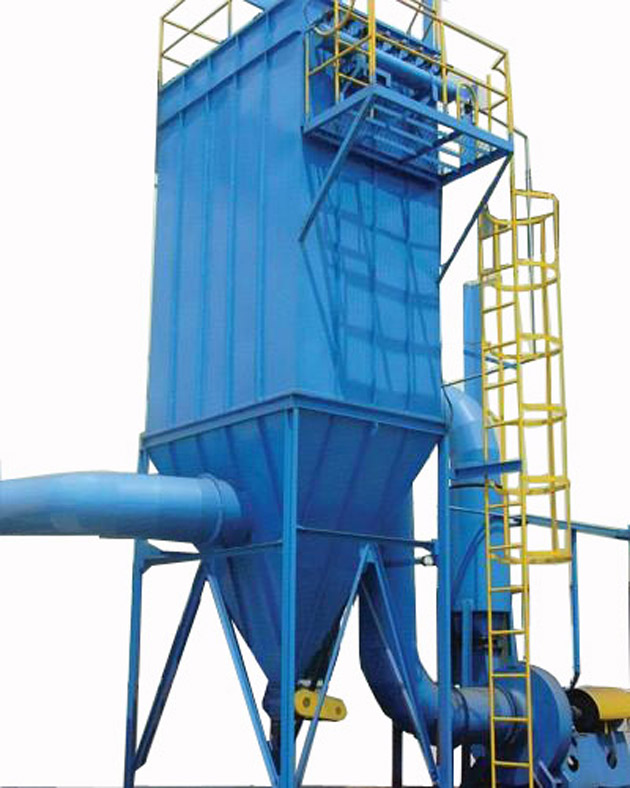 Ⅰ. Brief introduction
  HMC pulse stand-alone bag filter is a small type of bag filter developed by our company after absorbing the technology domestic and oversea similar product. Bag filter is used the way of pulse spraying. It is characterized by good removing dust, high purified efficiency, big volume, long life of filtering bag, small maintenance volume,safe and dependable driving etc. It is widely used in metallurgy, building material, chemical industry, mining and in the purifying and reclaiming of other non-fibre powder dust and industrial powder.
HMC pulse single bag filter has six specifications, each one can also have standard dust hopper A and open flange B (without dust hopper). The structure is mainly composed of filtering room, filtering bag, purified air room, dust hopper, dust discharge valve, pulse spraying and dust removing units, electric control cabinet. The body is used welding structure. Inspection door is used rubber strip to seal and guarantee no air leakage of dust filter.
Ⅱ.Characters of the structure
The body of bag filter is composed of the shell, filtering bag assembly, spraying and dust removing device and dust discharge unit.
 The shell have upper case body, middle case body, dust hopper, air inlet and outlet.
 The assemble of filtering bag is composed of filtering bag and filtering frames etc.
 Spraying and removing dust units is composed of gas bag, spraying pipe, pulse valve, magnetic control valve, electric control meters etc.
 Dust discharge unit is composed of motor, reducer, screw conveyor and star discharge valve.
Pulse valve I is used right-angle impulse valve and pulse valve II is used straight in pulse valve. To reduce the resistance of pulse valve itself, it is an ideal pulse spraying way.

 Ⅲ.work principle
  The Air inlet of type HMC dust filter is designed in the dust hopper. When dust air enter dust hopper from the air inlet, it will first touch the stop plate at the air inlet. Under the effect of inertia, the crude material in the air enters the dust hopper directly for the function of pre-removing dust. Air flow in the dust hopper will go upwards through filtering bag installed with metal framework. Powder dust will be collected on the outside surface of filtering bag. The purified air will enter into top clean room, discharge from the air outlet pipe. Dust bag indoors have many rows. Remove the dust of each row acording to the given time. When pulse valve is opend, spray high pressure air into filtering bags to remove dust on the surface. The width of pulse spraying and the period of dust removing of all rows of filtering bag is controlled automatically and continuously by special dust removing program. The structure and work principle of dust filter refer to the attached drawing.
Dust air will enter filter room through dust hopper (or through the open flange at the bottom), the bigger grain will fal into dust hopper or material silo.
Main technical parameter
Qty. of filtering bag(piece)

Resistance of dust filter(Pa)

Outlet exhaust density (mg/m3)

Compressed air for removing dust

Weight
kg
Technical parameter and connection dimension of Type HMC stand-alone bag filter
Notes for order
1、When placing an order, the customer should write the specification, type clearly.At the same time, provide technical parameter of powder dust treatment at site for our better service for you.
2、If the customer requests us to design, contact with sales department of our company and mark it in the contract.
3、Supply scope of the equipment:
a、Equipment:Inlet flange and discharge opening at the bottom are the boundary. Branch gas bag of Pipeline is the boundary.
b、Attached equipment:timed dust removing controller;
c、Random document:Operation manual, installation drawing and quality certificate.
d、We will improve our product capacity continuously. Maybe we can't inform you in time. If technical parameter is not complied with the catalogue, please refer to the random document.