Type HD bag filter has six specifications which are divided into type A, B and C. Type A is designed ash door.Type B is designed the drawer. Type C is designed without ash door and drawer. Add flange at the bottom according to the customer's requirement and equip with the top silo, material silo and belt conveyor etc. to remove dust at site, The dust will be reclaimed.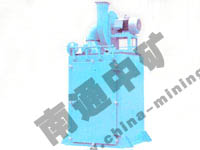 Structure features:
1、The parts of fan are used common standard fan, it is easy for maintenance and to replace with vibration resistant measures and low noise.
2、Filtering nag is used "729" round cylinder filtering bag whose filtering effect is good and it is with long life.
3、 Removing dust structure is used to drive pole structure with motor by the way of wobbling of filtering bag and remove the dust in the surface of filtering bags. The control device is used manual control and automatic control. The time of dust removing is adjusted by time relay at ease (Electric control panel is matched with bag filter).
4、Dust door is used the structure of draw door and dust door. It is convenient to remove dust.   
Work principle:The dust in the surface of filtering bag will be increased. The resistance of filtering bag will be increased too. Make the dust inside surface of filtering bag fall down by the way of timing control and automatic control vibration or by manual control removing dust units. After stopping, it will vibrate for several seconds and make powder dust sticked in the surface of filtering bag fall into ash door, the drawer or belt conveyor directly.