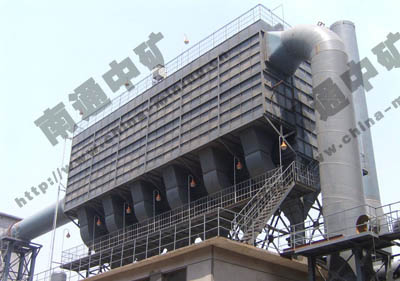 Ⅰ、Brief introduction
PPCA/S Air case pulse bag filter is a kind of high efficiency bag filter introduced advanced technology from America Fuller Company. It has the advantage of divided chamber and spray pulse dust filter, which overcomes the shortcoming of not enough strength and of that dust removing spray pulse and filtering at the same time. So it enlarges the application range of dust filter. The structure has special character and improves dust efficiency and delays the application life of filtering bags.It is widely used in the crushing, packing of cement factory and in dust filtering system of top silo, clinker cooler and all kinds of mills. If it is used in dust filtering of coal mill, anti-fire and anti-explosive measures should be added. The structure of filter will be changed, too. It can be used in high density dust. For example, coal mill system of O-SEPA powder separator, air dust density can arrive at over 1000g/ m3 (standard). Apply this kind of dust filter, cyclone dust filter can't be used as I grade dust filtering except that it is used in cement industry, also in metallurgy, chemical industry, machinery and civil boiler. The material of dust filter is used terylene needle felt. The allowable temperature is less than 120℃.If aramid fiber needle felt is used for the filtering bags, the allowable temperature can reach 210℃. If temperature is higher than the allowable temperature of the above selected filtering material, measures should be taken to low down the temperature.
PPCA/S series of dust filter is outdoor type. Different chambers and different bags of every chamber compose different specifications. Bag quantity of every chamber has four types of 32, 64, 96 and 128. There are 33 specifications in total of this series. The diameter of the filtering bags is 130mm. There are two kinds of length of the bags, 2450mm and 3060mm. The whole series of dust filter can be operated in sub-pressure and positive pressure. The body structure has no changes. Dust efficiency can reach over 99.9%. Dust density after purifying is less than 100mg/m3 (standard). The main technical parameter of this filter refers to the appendix table. If this series of dust filter is used in cold areas and when the outdoor heating temperature is lower than -25℃, heating device should be added and the shell of dust filter need to add thermal insulating layer.
Ⅱ. Structure and work principle
PPCA/S dust filter is composed of shell, dust hopper, dust discharge device, frame and pulse dust removing system. When dust air enter dust filter from air inlet, it first touches middle inclined plate of air inlet and outlet. Air flow turns to dust hopper and flows into dust hopper. At the same time, the speed of air flow becomes slow under the effect of inertia. Crude grain in the air falls into dust hopper directly. And it is pre-dusting. Air flow in dust hopper is folded upward through filtering bag with metal frame. Dust powder is collected outside filtering bags. Purified gas enters clean room on the top of filtering bags and then discharged from air outlet pipe. The shell is divided into several filtering chambers by dummy plate. It will remove the dust in every chamber in turn in given fixed time. Every dust filtering chamber is installed a lifting valve. When removing dust, lifting valve is off, cutting off air flow which goes through chamber. Then open pulse valve and spray high pressure air to the bags. Clean dust powder on the outside surface of the filtering bags. Pulse spray width and dust removing frequency of all chambers is controlled by special dust removing control program.
Ⅲ.Characters of air case pulse bag filter
The character of air case pulse bag filter is removing dust with different chambers in turn,that is to sayoffline dust removing. When one chamber is spraying dust, filtering air flow will be cut. Avoid the second time scattering dust. Therefore air case pulse bag filter can collect 1000g/nm3(standard) of air density.
Ⅳ. Electric control device of dust removing
1. Control way of dust removing
Usually dust removing control way is used timing way or fixed resistance way. The fixed resistance way means to control the differential pressure of internal and external filtering bag. When differential pressure of dust filter arrives at the setting value (usually it is 1470Pa), different pressure transmitter will send out signal and pass through electric control device. Remove dust according to the regulated programme.
2. The function of electric control device
Centralization of control is used for single PLC program. There are manual and automatic control ways. When there is something wrong with single machine or it need repairing, it can be changed into manual control. Considering commissioning and equipment inspection, local control is arranged.
3. The wiring design from the electric control device to dust filter is on the user's response. Wire connection terminal refers to operation manual of electric control.
Ⅴ.Composition and supply of dust filter
1. Dust filter includes shell, dust hopper, filtering bag device, air inlet pipe, dust discharge device and pulse spray system (including pulse valve, pipeline, valve, three connections of air source and air tank etc.)
2. Dust filter is equipped with dust removing electric control device. Usually it is used timing dust removing control. If the user wants to use timed control, note it when placing an order. Differential pressure meter of fixed resistance control, differential pressure alarming meter and other meters are paid separately.
3. Assort dust discharge device of dust filter according to the user.
4. The user needs to change filtering cloth to suit other special requests. If it is used in cold area, heating insulation system should be added. Note it directly when placing an order.
5. Dust filter can be shipped in the whole or partial shipment according to different specifications. The design of foundation is selected by the user.
6. Operation manual and installation operation manual of PPCA/S air case pulse bag filter will be provided by the manufacturer.
Technical capacity list of PPC32/PPC64 air case bag filter
Technical capacity// Type

Handle volume

(

m3/h

)(

m2/h

)

1.2-2.0

(

Select different purified filtering speed according to different air speed.

)

Chamber qty. of dust filter

Resistance of dust filter

(

Pa

)

Air inlet dust density

(

g/m3standard

)

Air outlet density

(

g/m3standard

)

Loading negative pressure of dust filter

(

Pa

)

Power consumption(m3/min standard)

Pulse valve
(with magnetic valve)

Lifing valve
(with air cylinder)

Dia. Of lifting valve Ø460

 

Dia. Of air cylinder Ø63

Dia. Of lifting valve Ø595

 

Air cylinder

直径

Ø100

Outlet opening 300X300mm

 

Height:150m

     

Speed:30.31r/min

 

Power of reduced motor:1.1KW

 

Output:24m3/h

Dia:Ø300

 

Output: 30m3/h

 (

Filling

率

Ø=0.7

)

Type:XWD2.2--5--1/43. Power:2.2KW

dust removing programme controller

Input and output voltage is 220V

,

The controller is provided by he supplier.The detailed documents refer to operation manual of the controller.

Specification and material of filtering bag

Dia.XL Ø130X2450mm

,

Weight of terylene felt is 450g/m3

,

Applied temperature is 120 centigrade.

Area of insulation layer

(

m2

)

Total weight (elavated value

,

not including thermal insulating layer

)




(

kg

)
Technical capacity of PPC96 air case bag filter
Technical capacity //Type

PPC96
-4

PPC96
-5

PPC96
-6

PPC96
-7

PPC96
-8

PPC96
-9

PPC96
-2X5

PPC96
-2X6

PPC96
-2X7

PPC96
-2X8

PPC96
-2X9

PPC96
-2X10

1.2-2.0

(

Select different purified air filtering speed according to differernt scattering dust point.

)

Chamber qty. of dust filter

(

pcs

)

Total qty. of filtering bag

(

pcs

)

Resistance of dust filter(Pa

)

Air inlet density

(

g/m3 standard

)

Air outlet density

(

g/m3standard

)

Loading pressure of dust filter

(

Pa

)

Compressed air for removing dust

Air consumption


(

m3/min standard

)

Pulse valve(with magnetic valve)

Lifting valve
(with air cylinder)

Dia. Of lifting valve is Ø725

 

Diameter of air cylinder is Ø100

Discharge opening 400X400mm

  

Speed:22.5r/min

 


Power of reduced motor:1.5KW

 

Output:38m3/h

Discharge opening:350X350

mm

  

Speed:24.63r/min

 


Power of reduced motor:Power of reduced motor:1.5KW

 

Output:30m3/h

Type:XWD5.5--5--1/59. Power:55KW

Type:XWD2.2--5--1/43.Power:2.2KW

Removing dust program controller

Input and output voltage is 220V

,

The controller is provided by the manufacturer and the detailedinforamtion refer to operation manul og the controller.

Spec.and material of filtering bag

Dia.XL:Ø130X2450mm

,

Weight of terylenen is 450g/m3

,

Application temperature is 120.

Area of insulation layer

(

m2

)

Total weight of the equipment


(

evaluated value

,

not including thermal insulating layer

)




(

kg

)
Technical parameter of PPC128air case pulse bag filter
Technical parameter//type

PPC
128-6

PPC
128-9

PPC
128-10

PPC
128-2
X6

PPC
128-2
X7

PPC
128-2
X8

PPC
128-2
X9

PPC
128-2
X10

PPCA
128-2
X11

PPC
128-2
X12

PPC
128-2
X13

PPC
128-2
X14

1.2-2.0

(

Select different purified air filtering speed according to differernt scattering dust point.

)

Chamber qty. of dust filter

(

pcs

)

Total qty. of filtering bag

(

pcs

)

Resistance of dust filter

(

Pa

)

Air inlet density

(

g/m3standard

)

Air outlet density

(

g/m3standard

)

Loading negative pressure of dust filter(Pa

)

Compressed air for dust removing

Air consumption

(

m3/min(standard

)

Pulse valve(with magnetic valve)

Lifting valve
(with air cylinder)

Dia. Of lifting valve:Ø725. Dia. Of air cylinder:Ø100

Discharging opening: 300X300mm
Output:24m3/h

 

Power:1.1KW

 

Type:XWD2.2--5--1/43. Power:2.2KW

Spec. of air slide:250mm

,

Air volume of air slide is2.0m3/m3 ventilated layer.Air pressure is 5860pa

,

The selection of fan and pipeline equipment are responsible for the user. If air inlet density is less than 700g/m3 standard

,

select dust filter of screw conveyor.

Removing dust program controller

Input and output voltage is 220V

,

The controller is provided by the manufacturer. The detailed document refers to operation manual of the ontroller.

Spec. and material of filtering bag

Dia.XL Ø130X2450mm

,

weight of terylene needle felt is 450g/m3

,

Applied temperature is 120 centigrade.

Area of insulation layer

(

m2

)

Total weight

(

evaluated weight

,

not including insulation layer

)




(

kg

)