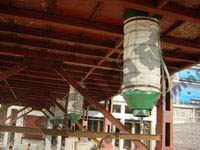 Technical parameter of train truck loader:
1、The max. capacity of train truck loader is 300t/h;
2、The max. falling travel of bulk loading head of train bulk loader is 2500. The Max. travel distance is 6000;
3、The power of motor of the hoister is 2.2KW,The voltage is 380V;
4、The power of travel motor is 1.5KW. The voltage is 380V;
5、The power of bulk loading vibration electrics is 0.06KW,220V;
6、The power of ventilator of train bulk loader is 2.2KW. The voltage is 380V;
7、Dust filter is provided by the customer. Air volume of dust filtering is about 4200m3/h;
8、When placing an order of electric control case, we can design it according to the control requirements.
Description:
1、Steel rail is not included in the supply of truck bulk loader. The customer is asked to prepare and fix it by himself.
2
、
The height difference of steel rail of train bulk loader should be≤1mm in the same level. Height difference of rail connection is less than 1mm
;

3
、
The center of steel rail is 1350±1.5
;

4
、
Weld JY28-00-13 travel switch as the moving limit position at the end of steel rail of 5620mm.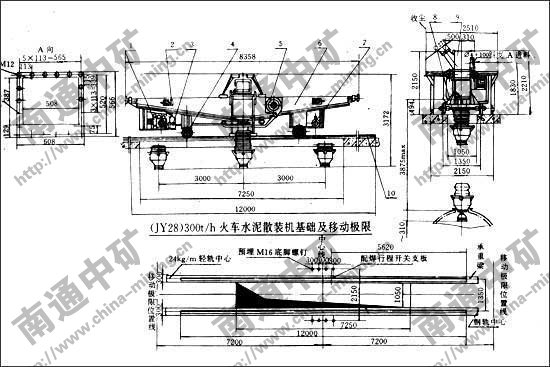 1、Hoisting device 2、Watch window 3、pull-cord switch device 4、Wheel device
5、Blower 6、Double air slides、 7、travel reducer 8、Bulk loading head
9、Feeding apparatus of train bulk loader 10、Steel rail of 24Kg/m(The fixed way is confirmed by himself.)