Cement bulk loader is the equipment which conveys clinker(<=50mm) in silo to clinker bulk loading ship and truck. Bottom cement clinker bulk loading equipment is mainly composed if manual bar valve, motorized fan valve, hoisting device, flexible discharge device, dust suction hoses, capacitor limit switch, electric control system etc. The user may also select side silo bulk loader.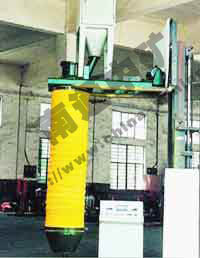 Technical parameter of cement bulk loader
Cement clinker or similar lump material

Flexible distance of discharge head

Customized it according to the customer's requirement.

VEGACAP11 Probe length:400mm
Probe diameter:ф20/ф15mm
Work pressure:6300KPa
Work temperature:-40℃-200℃
Working principle of cement bulk loader
When transport vessel enters loading position, take the relative rods out of the bar valve. Press the button of DOWN in the control panel. After discharge head is to the position, the power of lifitng motor will cut off automatically. Press the button of LOADING, start to discharge. Auxiliary equipment will start work. The dust caused by discharge will enter the inlet hopper. Discharge head from flexible hose will be purified by dust filter. When material in the discharge head is full, discharge head will lift, at the same time alarm. Lifting distance will be setted before loading. If it is lifted one meter, the time of time relay will be adjusted at the same time T=1/V. During the lifting, the loading is always continuing. When the discharge head is full, do the above action again and again. After reaching the full position, press the STOP button to make the motor reverse vibrat or close the fan valve and stop other equipments. After it is stopped, the discharge head can be lifted for some distance from the material to ensure the movement of transport vessel. Then check the second discharge work position till the whole silo is full.