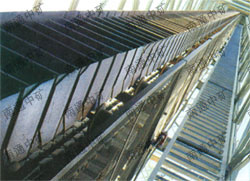 SCD two-tank clinker conveyor
1, level and tilt conveying dry granular materials.
More than 60 ° 2 and tilt.
3, transmission distance can reach 150m, the biggest hoisting height can reach 60m.
4, conveying can kingdom 75m3 / h - 240m3 / h.
5, traction chain by forging molding chain plate, high intensity, long service life.
6, carrying with traction separate structure, make conveyor stress reasonable, smooth operation.
7, material temperature acuities 250 ℃.
8 and appropriate materials, LiaoDu 50 200mm largest size.
SCD two-tank clinker conveyor airborne level when transit (25 ° obliquity acuities throughput (units) rated m3 / h) :
Transportation speed

(

m3/h

)
SCD two-tank clinker conveyor in conveying (tilt Angle > 25 °) transmission capacity adjustment coefficient K


SCD two-tank clinker conveyor chain technical parameters