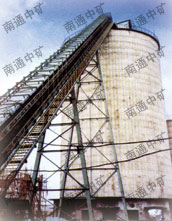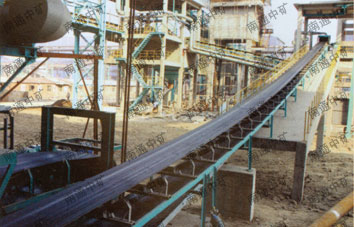 Ⅰ. Main capacity parameter
The main capacity parameter of DJ, JB crinkle edge belt conveyor made by Nantong China-Mining please refers to table1. The amount conveyed is calculated according to 30 degree angle, max. belt speed and min. distance between diaphragm plates.
main capacity parameter
conveying capacity Q(m3/h)
Ⅱ. Name, type and specification
name : crinkle edge belt conveyor
type : DJ, JB
spec.: there are 101 kind of specifications according to the width of belt B ( cm), the height of damper H ( cm) and the diameter of driving rollers.
spec. of crinkle edge belt conveyor
4、examples

三、type of arrangement
1、basic type of arrangement
The basic arrangement and code of DJ, JB crinkle edge of belt conveyor is referred to table 3. These are the five basic arranging types. Actually, the conveyor can be bended several times at one same vertical surface because crinkle edge conveying belt and rollers for changing direction are used in it. And more complicated arranging type can be reached.

2. Typical arranging type
To get better feeding and discharging conditions, esp. the conveying angle is over 45 degree, we suggest the users choose S or SC crinkle edge belt conveyor, which are that there are upper horizontal feeding part and lower feeding part of the conveyor.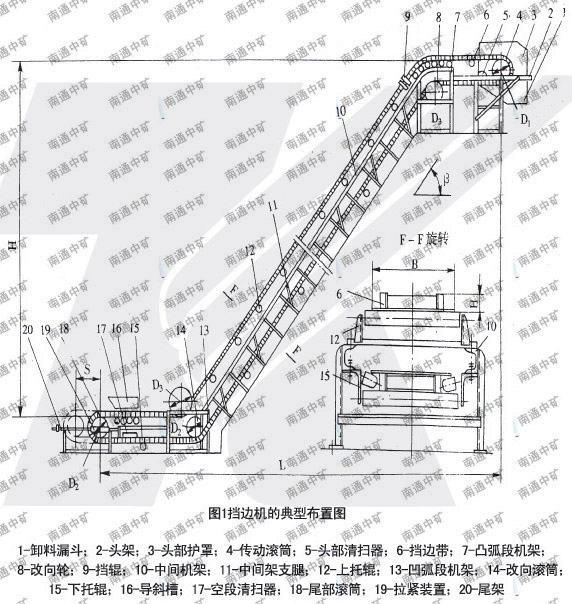 1 discharging hopper 2 head support 3 head cover 4 driving roller 5 head cleaner 6 blocking part 7 support for concave part 8 wheel for changing direction 9 blocking rollers 10 middle support 11 leg of middle support 12 upper roller 13 support for groove part 14 roller for changing direction 15 lower roller 16 guiding chute 17 cleaner 18 tail roller 19 tension device 20 tail support