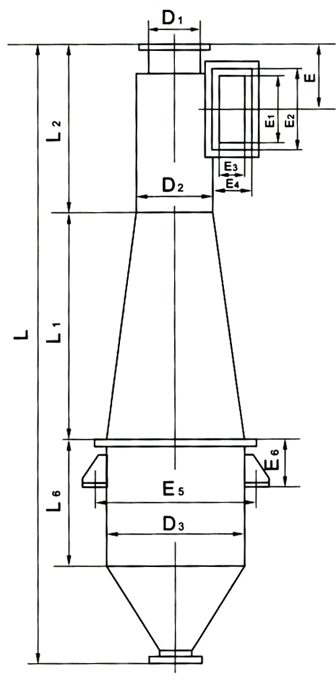 KuoSanShi dust cyclone is characteristic of the cone on the small place large and bottom reflector screen. With the dust removal efficiency high, simple structure, and the pressure loss is moderate, etc. Applicable to capture of dried and non-fibrous dust particles.
1, working principle
KuoSanShi dust cyclone working principle is the dongshen gas inlet pipe by rectangular along the tangential into filter cylinder, dust in the centrifugal force under the action of separation to the wall, and currents downward rotational motion, most airflow by reflector screen the reflection action, rotate rise by exhaust eduction. Small airflow with dust the reflector screen and the ring gap between cone into ash hopper, into the ash hopper gas speed is reduced, because of inertia effect, dust fell into ash hopper within the ash discharge valve eduction. Gas is the reflector screen of air holes rose to exhaust eduction.
Main dimensions
2, the structure characteristics
With the general KuoSanShi dust cyclone dust cyclone is the biggest difference between two points: one is to have a fall cone shape cone
Body; Second is the bottom in the cone fitted with reflector screen. Pour cone's role is, it has gradually increased since the cone wall to taper center
Distance, reducing the dongshen gas by cone center to short-circuit the exhaust pipe of possibilities. Reflector screen action can make has been separation of dust with reflector screen along the cone between tank into ash hopper, prevent rising purification gas back to the fine dust roll away, thereby enhancing the efficiency of dust, when cancel reflector screen after dust removal efficiency decreases evidently, for example, in imported gas velocity for 21m/s, import gas containing dust density for 50g/m3, the dust removal efficiency without reflector screen only 81% ~ 86%, Adopt 60 ° reflector screen, the dust removal efficiency 93% ~ 95%. Reflector screen cone Angle of 60 °, usually adopts the experiment has proved that it is 45 ° taper Angle of reflector screen have dust removal efficiency, high pressure loss low merit.
The reflector screen coping diameter to take air holes of tank diameter of 0.05 times when the dust removal efficiency best (see figure 4-35). Air holes in the centerline of the wrong or not level on the dust removal efficiency has significant influence. The pressure loss of reflector screen for 150Pa.
KuoSanShi dust cyclone another characteristic is has a bigger ash hopper. Due to the small dust entrainment gases from cone bottom spin into ash hopper, ash hopper cylinder diameters generally take tank diameter of 1.65 times. Gray face ministry of space height diameter 1 times take simplified. Ash hopper after dust rise deposit ash can lead to carry out dust flow, so, should timely out dust or continuous electric dust removal.
3, pressure loss
KuoSanShi dust cyclone pressure loss (P) and the dusty gas imported gas velocity v relationship according to laws. The pressure loss and imported gas velocity of drag coefficient is directly proportional to the, in between, average 7.5 ~ 9 for 8.5, error (plus or minus 15% within. In imported gas containing dust density unchanged, the imported gas velocity increased, drag coefficient basically unchanged. 45 ° reflector screen of drag coefficient slightly less than 60 ° reflector screen, large diameter dust catcher resistance coefficient value too. In imported gas velocity under the condition of invariable, with imported gas containing dust density increases, the resistance coefficient slightly decreased. Clean gas drag coefficient is the largest.
4, the dust removal efficiency
(1) imported gas containing dust concentration and the efficiency of the relationship with dust interstate talcum powder as samples, respectively in volume for 300m3 / h, pressure loss for 350 ~ 370Pa and tolerance for 600m3 / h, pressure loss for 1500Pa conditions, imported gas containing dust density 170 ~ 200g/m3. Scope changes, the dust removal efficiency (see figure 4-37. The pressure loss in 350Pa above the dust removal efficiency smoothly;
(2) imported gas velocity and dust removal efficiency relationship with the increase of imported gas velocity dust removal efficiency slightly increased. Meanwhile, imported gas velocity increasing, precipitator dynamic pressure loss increases greatly enhances the import, therefore, with gas velocity to improve the efficiency of dust control is not advisable.
5, KuoSanShi whirlwind precipitator
(1) series size KuoSanShi dust cyclone
If consider to choose two clk-proliferation cyclone applicable in parallel, then each of filters for handling volume 2500m3 / h.
(2) KuoSanShi dust cyclone combination to use clk-proliferation cyclone applicable standard drawing no CT533 combined type. In dedusting engineering also have its smoke gas according to treatment combinations.